About Our School
8 months ago
Green Acres is home to a committed staff that works together and models the collaborative spirit we wish to inspire in our students. Teachers, office staff, custodians, yard supervisors, the librarian, counselor and other itinerant staff work together to create a safe and caring space for children to thrive and grow. Teachers plan together weekly and coordinate a cohesive curriculum within and across grade levels. We hope to foster a growth mindset in our community, so that challenges can be routinely viewed as opportunities for learning. We want our students to learn that perseverance pays off in meeting personal goals, along with our rigorous academic standards.
Green Acres Elementary School has been recognized by the state of California as a Gold Ribbon Award School based on our literacy program. Reading is a priority in our school. Our Response to Intervention (RTI) Program provides time each day dedicated for reading instruction geared to meet the individual needs of students. All classes in grades 2-5 participate in the Accelerated Reader (AR) Program to log independent reading. An important goal for our students is that they learn to communicate their thinking orally and in writing, and to be able to apply their learning to novel situations. At Green Acres, we believe in the importance of educating the whole child and hope to ignite a passion for learning by incorporating art, music, physical education, digital skills, and our Life Lab Garden into the curriculum.
Green Acres staff is committed to the safety and well-being of all students. We use Positive Behavioral Interventions and Supports (PBIS) at our school, which includes school-wide rules and common expectations for all students. We have a full-time counselor on staff who organizes social skills groups throughout the year. Our child nutrition program is second to none, with fresh food prepared daily in our district. We have a recess coach who organizes group activities during recess. Our facility is well-maintained. When you come back this fall, you will notice a fresh coat of paint on the main buildings! We hope to complete the project this winter with new green doors.
Although we have great programs and a wonderful facility, what really makes Green Acres special are the students, families and staff. I am proud and honored to be a part of this community of learners!
Nancy Krueger, Principal
Science Garden
about 1 year ago
Science Garden (a.k.a Life Lab)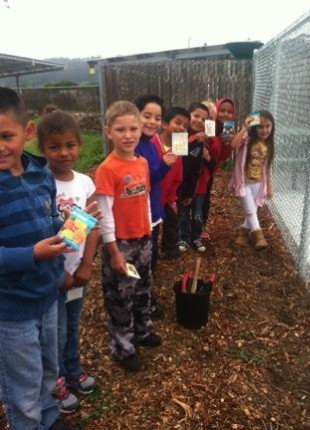 In 1978, Ruth Antolini and her fourth grade class, planted a small garden plot in an abandoned corner of our school. That small garden was the seed of the very first Life Lab.
Green Acres' teachers and kids saw the wonderful tool that a garden and outdoor classroom could be to teach and learn the lessons of science. By spring of 1978 work began to turn what used to be a parking lot into a garden and outdoor science program.
There was a lot of work to do. The ground was so hard that it broke the metal ripper on the tractor when they tried to dig it up. That didn't discourage the people at Green Acres! Little by little the clay soil was loosened by hand. Students and teachers began to fertilize, plant and love the garden.
Life Lab was so successful here at Green Acres that other schools began to use the same idea on their own campuses. Life Labs sprang up first in Santa Cruz and now have spread to over 500 schools in the United States. There are even Life Labs in South America and India.
Thanks to the many people who had faith and trust in the vision of teaching children through touching and knowing the dirt of the earth, and the excitement of hands on science, our garden continues to teach future generations respect and understanding for the land.